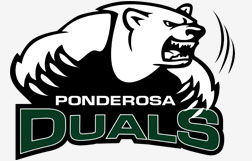 Date: Friday, December 3rd, 2016

Place: Ponderosa High School, Shingle Springs, Bruin Gym

Wrestling Begins: 9am on Friday

Weight-ins: 7am on Friday, Ponderosa Wrestling Room (+1 lbs.)

Coaches Meeting: 8:30am, Ponderosa Wrestling Room

Tournament Format: The tournament will consist of three teams in four pools. Every team will have five dual meets.

Entry Fees: $300.00 Please make check payable to: Ponderosa Wrestling. Please Pay Entry Fee Before Dec. 1st.

Awards: 1st, 2nd, 3rd Place Team Awards. Individual awards for teams placing 1st, 2nd, 3rd. Awards for "All Tourney" Selections.