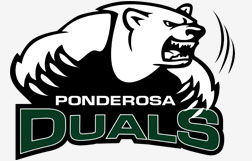 Date: Saturday, December 8th, 2012

Place: Ponderosa High School, Shingle Springs, Bruin Gyms

Wrestling Begins: 9am on Saturday

Weight-ins: 7am on Saturday, Ponderosa Wrestling Room (+1 lbs.)

Coaches Meeting: 8:30am, Ponderosa Wrestling Room

Tournament Format: The tournament will consist of three teams in four pools. Every team will have five dual meets.

Entry Fees: $300.00 Please make check payable to: Ponderosa Wrestling. Please Pay Entry Fee Before Dec. 6th.

Awards: 1st, 2nd, 3rd Place Team Awards. Individual awards for Teams Placing 1st, 2nd, 3rd.
Teams Entered
1. Ponderosa
2. Pleasant Grove
3. Foothill
4. Del Oro
5. Vista del Lago
6. Del Campo
7. Lincoln
8. Granite Bay
9. Rosemont
10. Woodcreek
11.
12.
13.
14.
15.